Braille Tokens
Accessibility at its Best
Make your event, sports competition, trade fair, ... accessible to visually impaired and blind people thanks to these braille tokens. This way, you not only make sure everyone feels involved, but also create more awareness among the general public about visual impairments.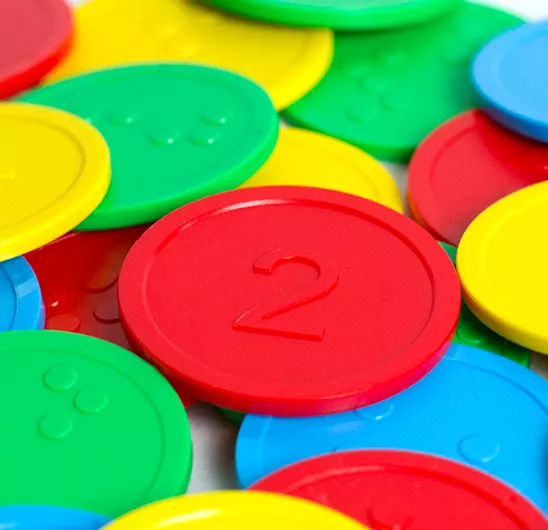 Specifications
The braille tokens are available in plastic and have a diameter of 38 mm. They are edged for easy handling. Thanks to the large surface area, there is enough space to add a personalised design or text in braille on both sides. The design is embossed on the coins, meaning it is in relief on the token in the same colour as the coin. This makes the text or logo clearly visible and tactile. For this, please provide the braille text in a vector file (.eps, .ai or .pdf).
In addition to your own design, you can also choose some embossed standard designs in braille in the configurator (personalisation tool). To do this, first select one of the 4 standard colours: yellow, red, light blue and light green. We recommend these colours as they are best visible to the visually impaired.
Want to store your braille tokens safely? Then check out our plastic token counting trays. These are suitable for storing 500 tokens per sorting tray.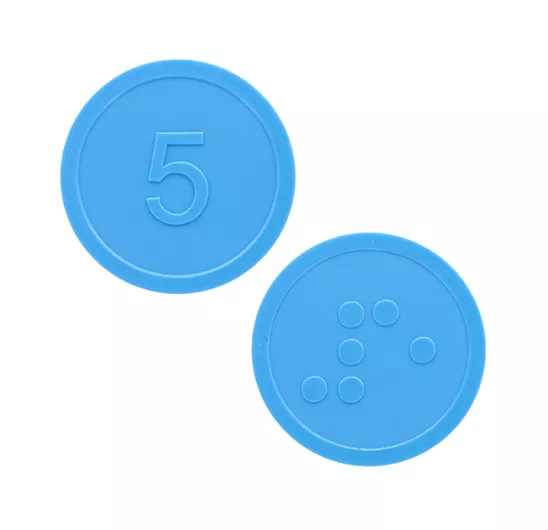 Uses
Our braille tokens are suitable for various purposes and sectors. Use them as a means of payment at your event, fair, festival, sports competition, ... or let them serve as business cards, admission tickets, rewards, ... . The possibilities are endless!